Problem solving
| | |
| --- | --- |
| | Problem solving is more than just solving a problem. |
Definition
Problem solving refers more to the process that leads to solving the problem than to finding the solution itself. In problem solving, the ability to use heuristics and a mathematical attitude are important. In general, a number of phases can be distinguished in problem solving:
describe the problem;
make a plan to solve the problem;
solve the problem;
look back on what you did.
Below, we show some graphic representations that summarise (mathematical) problem solving in a few 'steps'. In all these models, the order of the steps and the coherence of the steps is less fixed than the pictures suggest.
2003 – Pisa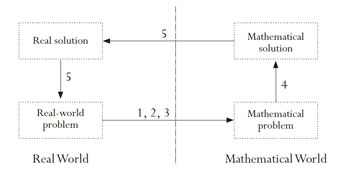 The PISA 2003 Assessment Framework. Paris: OECD.
2009 – Blum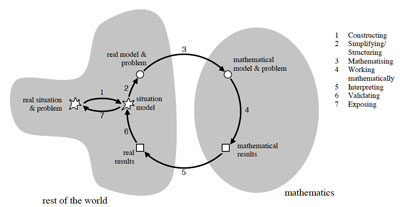 Blum, W. and Borromeo Ferri, R. (2009). Mathematical Modelling: Can It Be Taught And Learnt? Journal of Mathematical Modelling and Application
2015 – Pisa modeling cycle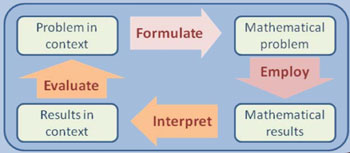 PISA 2015 draft mathematics framework. Paris: OECD.