MOST – Meaningful Open Science Education Connects Schools To Communities
Project H2020 – 2020-2022

Meaningful Open Schooling Connects Schools To Communities

Ten countries: DE, AT, NO, MT, ES, NL, TR, CZ, LT, SE
In the 'open schooling community' there are different roles:

Schools
Families
Professionals
Open (science) schooling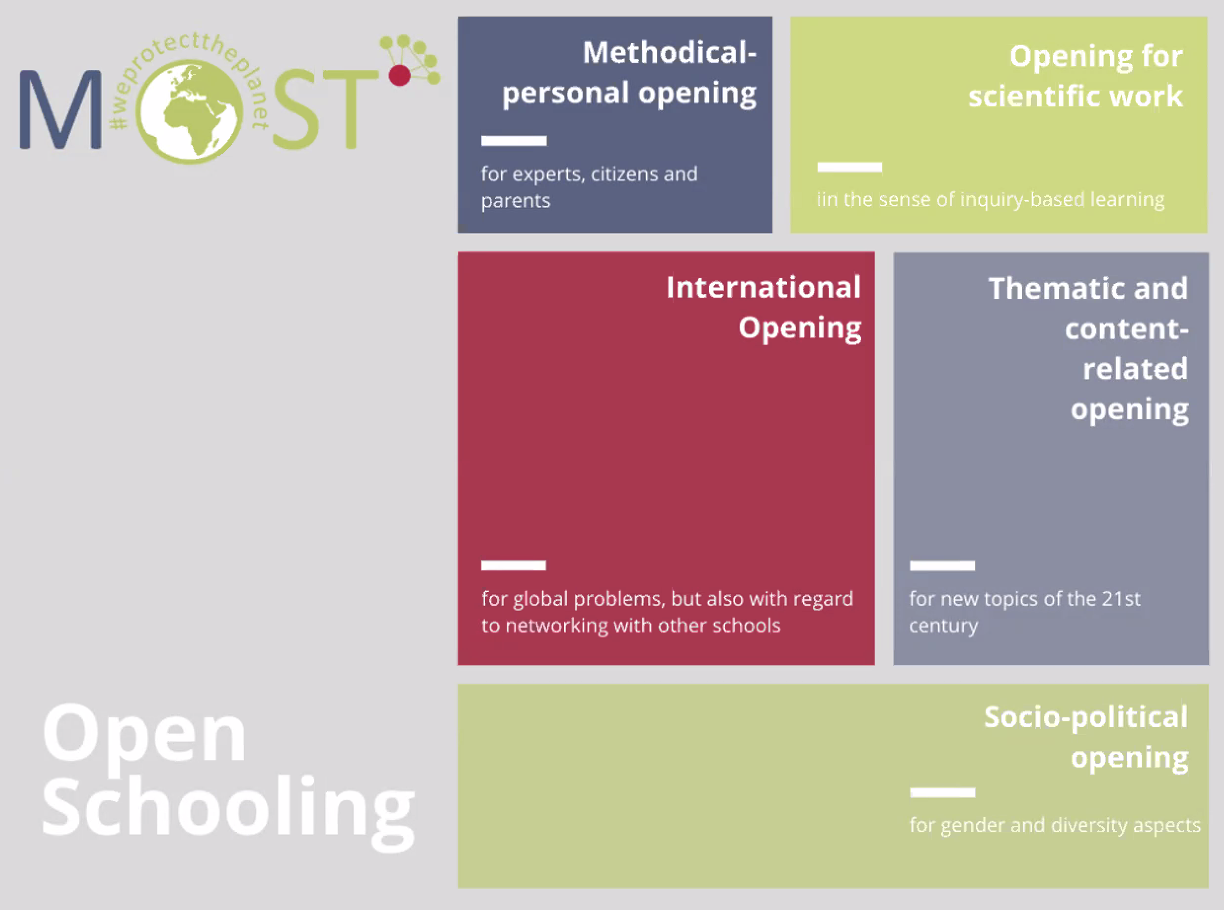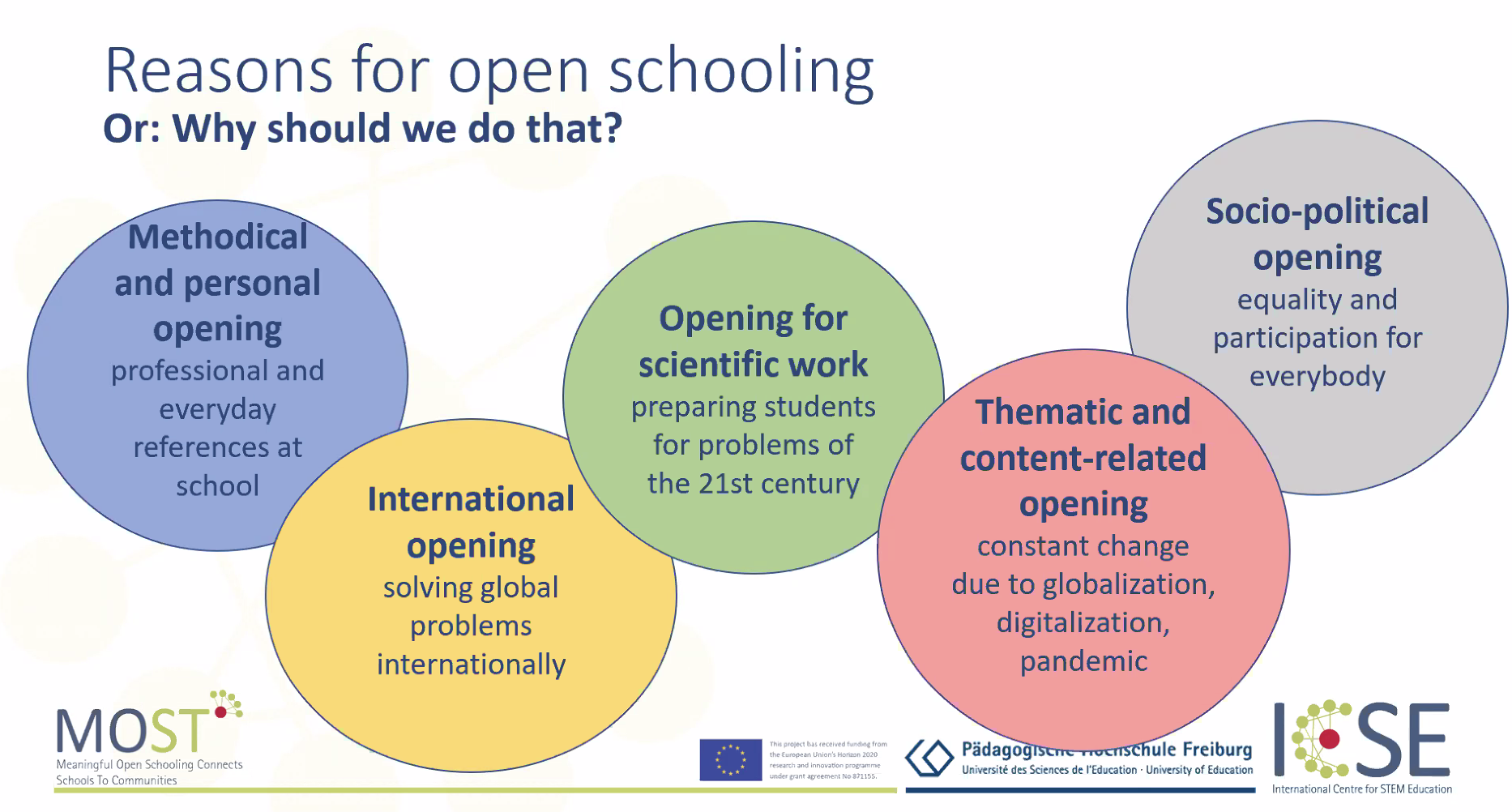 The EU funded project MOST supports European school students and citizens in developing science knowledge, transversal skills and competences in working scientifically. MOST enables and encourages its target groups to pursue scientific careers and long-term learning. To achieve this, our Consortium of 23 partners from 10 European countries (higher education institutions, schools, non-formal education providers, ministries, municipalities and enterprises) proposes a powerful Open Schooling idea.
The project opens up formal science education and establishes partnerships between schools and their communities (families, science education providers, citizens, businesses, etc.) to work jointly on environmental school-community projects (SCPs). These participatory projects directly respond to the needs and values of those involved, benefit the communities as a whole and make schools agents of community well-being. MOST's learning impact is boosted through an educational research-based approach that raises interest in science, scientific literacy and environmental responsibility.
MOST works on a threefold geographical structure: within communities (schools as hubs), at regional level in our 10 partner countries (connecting all open schooling communities from one region) and, 'creates a bigger picture' by establishing an Open Schooling Network at the European level. MOST fairs in each partner region maximise impact and strengthen regional efficacy. A final MOST Conference connects all SCPs across Europe to a vibrant science-learning network that opens up to further countries and communities.
Planning and implementation involve all relevant actors: formal/non-formal education, research /practice, policy, innovation-driven businesses and society as both benefactor and innovation driver. This raises actors' willingness to engage long-term participation and helps ensure impact beyond the project's lifetime.
1
Ethics requirements
The objective is to ensure compliance with the 'ethics requirements' set out in this work package.
2
Management
•To provide efficient administration and management to meet the projects' objectives and Grant obligations
•To facilitate involvement of all partners and foster open, active dialogue
•To maintain the link to the European Commission / Executive Agency
•To build trust among all partners
3
How to organize a SCP
•To develop instructions for schools to enable schools to function as self-reliant hubs in their community
•To prepare schools to run a SCP on their own (during project lifetime).
•To continuously optimise the instructions based on feedback questionnaires.
•To run Launch workshops
4
What is a SCP
•To establish Open Schooling in our 10 partner regions
•To produce pedagogical and scientific materials which can be used as educational basis to run SCPs
•To enable SCP leaders to perform Open Schooling activities long-term
•To achieve the expected science learning outcomes on girls
•To achieve the expected science learning outcomes on SCP participants
5
Fairs
•To connect Open Schooling Communities within a region
•To prepare the MOST fairs
•To run two MOST fairs in each of the 10 partner regions
6
Conference
•To connect partner regions across Europe and to disseminate the results of the project MOST
•To bring together different stakeholders to promote Open Schooling and to set up further cooperation
•To make MOST known beyond Consortium countries, to sow the seeds for supporting exploitation of MOST
•To facilitate exchange with the opportunity to improve our materials, obtain an even bigger picture of citizens' needs
and best practices in other European regions
•To encourage schools across Europe to establish Open Schooling Communities
7
Dissemination
•To raise the awareness of MOST among target groups as identified in 2.2.a and the wider public
•To promote MOST, its results and related themes across Europe and beyond project lifetime
•To share results in a way that target groups can make best use of them (within and beyond Consortium resp. project
regions) and enable them to use them correctly
•To announce the SCP, MOST fairs and European conference and attract participants
•To establish, maintain and make known the European Open Science School Network (EOSnet)
8
Evaluation
•To evaluate the extent to which the project has reached the general and specific objectives of MOST
•To evaluate the short-term project impact.
•To evaluate the SCPs from a systemic perspective (what went well, what did not) to give advice to policy makers /
communities beyond the Consortium on how to run such projects
| | |
| --- | --- |
| Pädagogische Hochschule Freiburg (PHFR) | DE |
| 2 UNIVERSITAET INNSBRUCK (UIBK) | AT |
| 3 NORGES TEKNISK-NATURVITENSKAPELIGE UNIVERSITET (NTNU) | NO |
| 4 UNIVERSITA TA MALTA (UOM) | MT |
| 5 UNIVERSIDAD DE JAEN (UJA) | ES |
| 6 UNIVERSITEIT UTRECHT (UU) | NL |
| 7 HACETTEPE UNIVERSITESI | TR |
| 8 UNIVERZITA KARLOVA | CZ |
| 9 VILNIAUS UNIVERSITETAS (VU) | LT |
| 10 HOGSKOLAN FOR LARANDE OCH KOMMUNIKATION I JONKOPING – HLK SCHOOL OF EDUCATION AND COMMUNICATION (HLK) | SE |
| 11 Walther-Rathenau-Gewerbeschule (WARA) | DE |
| 12 STADT FREIBURG (SFR) | DE |
| 13 MINISTRY OF NATIONAL EDUCATION (MNE) | TR |
| 14 Verein klasse!forschung (VEK) | AT |
| 15 AGENCIA ESTATAL CONSEJO SUPERIOR DEINVESTIGACIONES CIENTIFICAS (CSIC) | ES |
| 16 WasteServ Malta Ltd (WSM) | MT |
| 17 STICHTING NATURALIS BIODIVERSITY CENTER (SNBC) | NL |
| 18 Stredisko ekologicke vychovy SEVER Horni Marsov, o.p.s.(SEVER) | CZ |
| 19 Vilnius City Municipal Government (VCM) | LT |
| 20 Ducky AS (Dycky) | NO |
| 21 Birralee International School (BIS) | NO |
| 22 Energie Tirol Beratung-Forschung-Förderung (ET) | AT |
| 23 Jönköpings kommun | SE |