GEM – Zomerkampen voor STEM meisjes
Empower Girls to Embrace their Digital and Entrepreneurial PotentialEen Europees project 2020-2022

Contact in NL: UU (FI)
Slogan: To bring Girls2STEM and make them Girls4STEM we need to provide STEM4Girls.
Kern van GEM
Ontwerpen en organiseren van (gratis) eén- a twee-weekse zomerkampen voor meisjes 13-18 jaar, in de zomers van 2021 en 2022, om daarmee een levendige ervaring te organiseren wat betreft 'bèta-contexten', zoals software-engineering, programmeertalen, e.d. Naast workshops en colleges over verschillende onderwerpen is er ook tijd vrijgemaakt om elkaar beter te leren kennen aan de hand van leuke activiteiten.
De ervaringen in de verschillende partnerlanden in EU zullen gebruikt worden om elkaar te versterken in de lokale keuzes en uitwerkingen voor kampen en andere activiteiten (en aanvullend onderzoek).
Een en ander kan worden uitgevoerd met een ondersteunende subsidie van de EU volgens
deze regeling.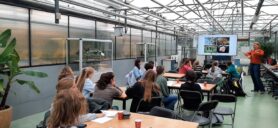 Gerelateerde artikelen